PCU Career Fair 2023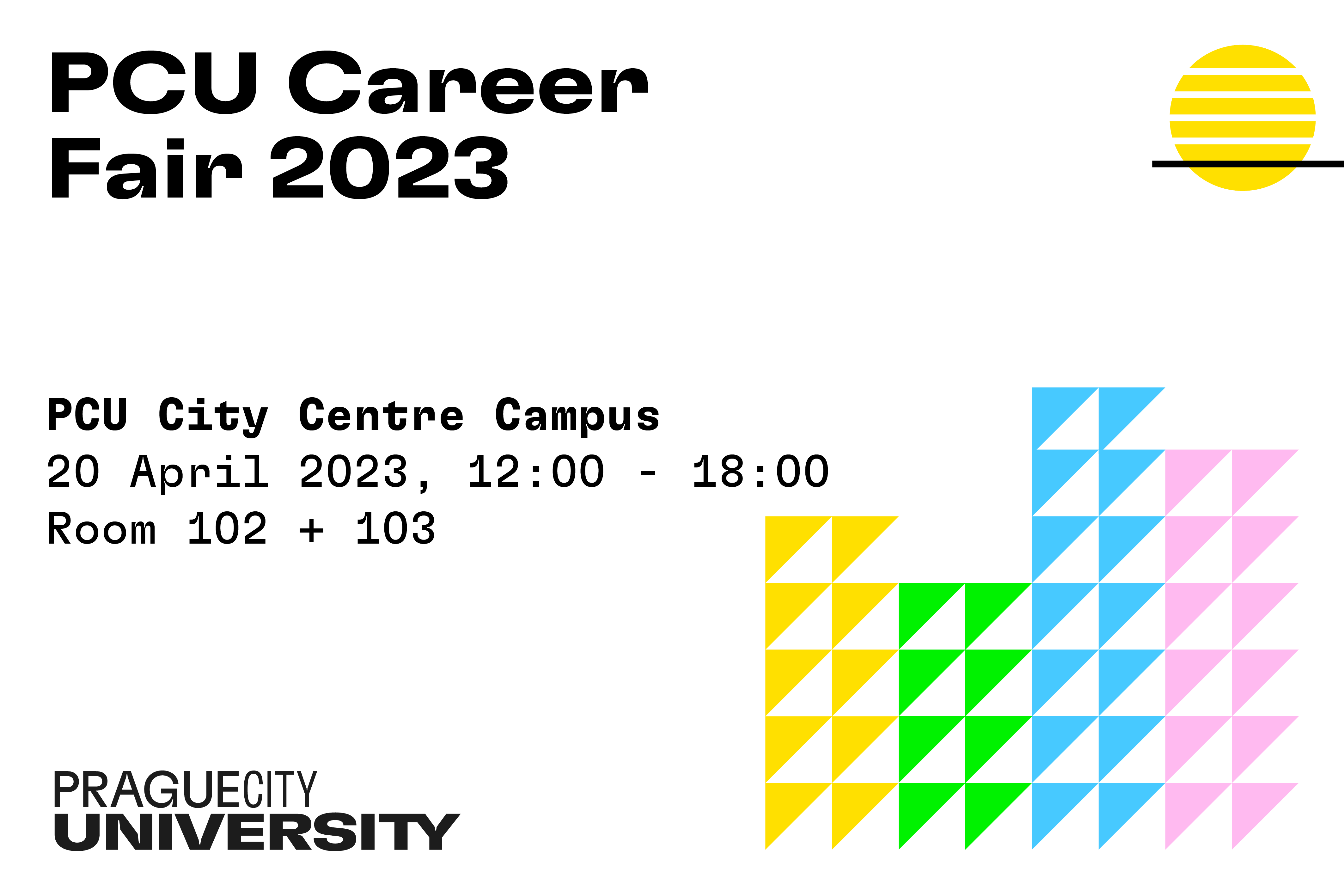 Update your CV, portfolio, polish up your interview skills and prepare to meet with local and international employers at the City Centre Campus.
We have specially invited industry partners who are ready to offer internships, part-time and full-time positions across business, computing, media and design.
Each partner will also take turns presenting their organisation and answering any questions that you may have.
COMPANY TALKS & SPECIAL PRESENTATIONS – Room 102
12:00 – Opening
12:30 – Ideation to Scaling, Creative Dock – Charlie Pimenta & Aleksandar Chernev
13:30 – AI in Outer space, Huld – Niels de Graaf & František Voldřich
14:00 – NTT Services & Career Opportunities – Mirel Dinu Popescu
14:30 – The Importance of Branding when Targeting Women, Heels Make Deals – Sabina Samuel & Katerina Horka
15:00 – Amaris, your Stepping Stone. – David Lacroix
15:00 (Room 106) – Practical tips on getting your first job in the Film and TV industry – Martina Gotthansova*
15:30 – Sustainability, ExxonMobil – Karolína Chudá
16:00 – Corporate Reality and the Communication Within – Alina Ruiz Guerra, Career Coach*
16:30 – Who are we? SAP Introduction – Irina Komorowska
17:00 – How to Build Your Own Media & IT Business and How to Find Investors – Sergej Pelda*
17:30 – Closing
NOTE: April 26th at 14:30
AKCENT INTERNATIONAL HOUSE PRAGUE
Teaching at Akcent International House Prague – Anna Kopecká, Room 504
PARTICIPATING COMPANIES:
Akcent International House Prague
AKCENT IH has a 35 year long history as an established language school in Prague and since 2000 are members of the prestigious worldwide network of language schools called International House World Organisation. They provide courses to the public and teach children, teenagers and adults at all levels and teach languages in corporate organisations. AKCENT IH Prague is a platinum exam centre for Cambridge exams and offer teacher training courses, such as CELTA, DELTA or TKT. Our team consists of qualified teachers of many nationalities and we provide teacher development programme for our staff.
Amaris Consulting
Amaris is an independent technology consulting firm providing guidance and solutions to businesses. They provide services in Information Systems & Digital, Telecom, Life Sciences and Engineering. Amaris has more than 1,000 clients and 6500 employees across the globe and have been rolling out solutions in major projects for over a decade.

Creative Dock
At Creative Dock we explore, design, build & scale ventures. We are the fastest growing corporate venture builder in Europe & MENA. In 5 core offices, we help large companies find and bring in new revenue by creating new services and products.
ExxonMobile
An industry leader in energy and chemical manufacturing, Exxon Mobile operate facilities or market products across the globe and explore for oil and natural gas on six continents. They also research and develop next-generation technologies to help meet the dual challenge of fueling global economies.
Heels Make Deals
Heels Make Deals is a branding studio that helps businesses to connect with a female audience by creating solid concepts, powerful messaging, fresh visuals & unique user experiences. They collaborate with a diverse range of clients, including local businesses such as Manifesto Market and Kofola, as well as international clients. Currently, the studio is expanding its presence in the American market with ongoing projects in New York City.

Huld
Huld is a European technology design house with the vision of 'Creating an Intelligent World'.  They address today's challenges offering digital transformation, technology and product development services, as well as Safety and Security solutions. They offer a full product development lifecycle from industrial design to software engineering. Huld have over 500 employees and offices in Finland and the Czech Republic.

Mancala Gaming
Mancala Gaming is an online game provider with a curated portfolio of games in various themes that cater to every player's taste. Founded in 2019, Mancala are a young and flexible company with a strong vision and values offering a first class service and fair approach to all business partners and players.
NTT
The NTT Group is a world leader in providing global managed services for networking, data centres, cloud infrastructure, cybersecurity and cloud communication solutions. With $108B in revenue and more than 330,000 employees in over 80 countries and regions, NTT is committed to being a long-term trusted partner and contributor to overall society through their business operations.

SAP
SAP started as a team of five colleagues with a desire to do something new. Together, they changed enterprise software and reinvented how business was done.
Today, as a market leader in enterprise application software, we remain true to our roots. That's why we engineer solutions to fuel innovation, foster equality and spread opportunity for our employees and customers across borders and cultures.
SAP Services in Prague is a hub for the European HR and Finance teams. SAP Concur & SAP Ariba are home of our IT Customer Support roles and SAP Labs is the center for Software Developers. In a lot of cases, our customers are also our colleagues and we interact with other teams around the globe.
SPECIAL GUEST SPEAKERS:
*Alina Ruiz Guerra has 12+ years of professional experience in the industry leading corporations, 8+ years of which in the leadership roles. She has personally hired over 100 people throughout the years, and also coached and helped the career development of over 50 employees. She is passionate about what she does, and believes everyone has what is needed to build a great career. 
*Sergej Pelda is an entrepreneur and OTT systems expert who has worked with global giants such as Apple and DAZN. He brings a wealth of knowledge and experience to the table with a comprehensive high-level understanding of OTT systems for both live and VOD content. Sergej has technical expertise in all aspects of delivery, including encryption/DRM, packaging formats, CDN distribution, client playback protocols, encoding, and origin services.
He also has extensive management and technical experience in VOD delivery and quality control, including live streaming to a global audience and has successfully led and mentored teams of technical operators. He is also highly skilled in client acquisition and relationship management, stakeholder communication and collaboration, supplier governance and relationship management, process improvement, and staff development.
Sergej is currently building a startup in stealth mode with global aspirations. The startup combines emerging AI and Web3 identity technologies, positioning it at the forefront of technological innovation.
Whether you're looking to start your own media or IT business, or seeking investors for your existing business, this talk is a must. Sergej's expertise and experience provide valuable insights and tips on how to succeed in this highly competitive industry.
*Martina Gotthansova is the Czech Republic's best-known Second Assistant Director. If there has been a blockbuster film shooting in Prague, Martina has likely worked on it. She has worked on over 40 international productions, with companies such as Universal, Miramax, Fox, Paramount, Columbia, on films such as Mission Impossible, The Bourne Identity, Casino Royale, The Chronicles of Narnia, xXx, and television shows such as The Musketeers, and Knightfall, as well as many Czech films. Martina's role as a Second AD involves working closely with actors, and she has worked directly with Johnny Depp, Hugh Jackman, Matt Damon, Jennifer Lawrence, Anthony Hopkins, Tom Cruise, Daisy Ridley, Heath Ledger, Ben Kingsley, and Daniel Craig, to mention just a few!