Reality… Really? School of Media & IT Conference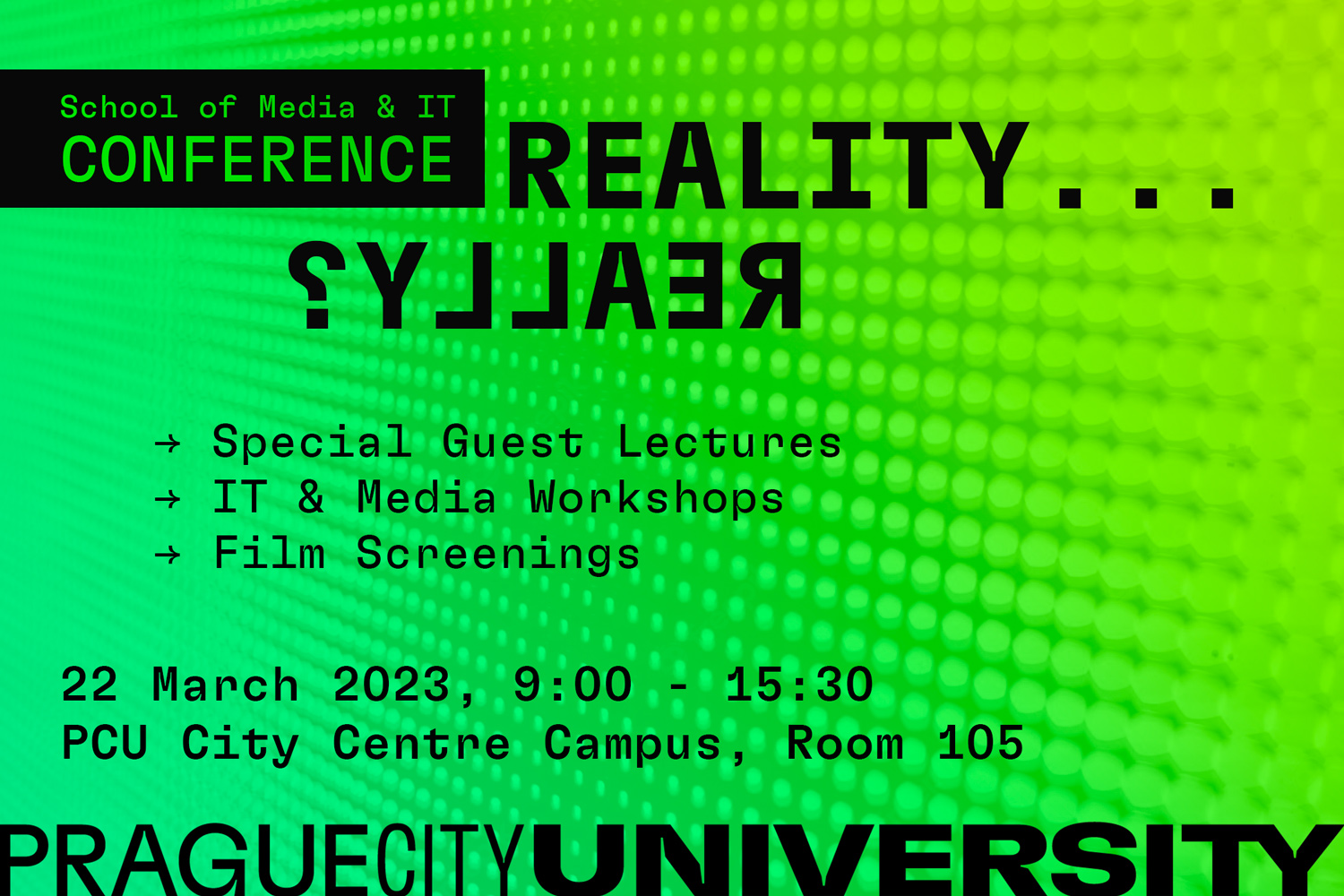 The School of Media & IT invite you to a special conference featuring a rich programme of special guest lectures and topics, workshops and film screenings.
Lectures and workshops will take place in Room 105.
In addition, there will be two mini poster exhibitions in the hallway spaces on the first floor. The posters reflect PCU's Post-Truth Reality theme and are created by student from the School of Art and Design.
PROGRAMME
9:00 – 9.15
Welcome Address
Veronika Douchová, Dean of the School of Media and IT
9.15 – 10:15
Beyond Human Intelligence? An Exploration of AI's Latest Developments, its Ethical Implications and Compliance Issues
Alžběta Solaczyk Krausová, Institute of State and Law, Czech Academy of  Sciences 
The lecture will introduce the latest developments in AI technology, including generative artificial intelligence such as ChatGPT, personalization, or biological computing. We will explore the ethical implications that arise from such advancements as well as legal requirements for the design, development, and use of such systems.
10.15 – 11.15
Greenwashing
Graeme Murray, Prague City University
Greenwashing is a global problem. It is so omnipresent that it is paralysing  everybody. It penalizes people doing real important stuff, whilst favouring the people not doing really important stuff when it comes to ESG (Environmental, Social and Corporate Governance) matters. Learn what greenwashing is, understand how greenwashing is linked to sustainability and purpose, see why companies engage in it, witness some examples, train yourself to spot greenwashing in action and consider the role brands and the media play to ensure responsible advertising and encourage the right behaviours.
30 min COFFEE BREAK
11:45 – 12:45
Recreating crime sites with 3D modelling software
Pascal Silondi, Prague City University
CRIM3.0 is a framework dedicated to real-time 3D reconstruction of crime scenes to facilitate their understanding. Intended for Justice and Magistrates, the creation of this innovative solution is the result of a partnership between Pascal Silondi for the French company Perspective[S] and the Laboratory of Criminal Analysis (LAC) in Marseille.
45 min LUNCH BREAK
13:30 – 14:30
Digital Hygiene
Alexandru Mihnea Moucha, Prague City University
Alexandru's presentation will be on the services normally provided by an internet-oriented service provider that can be implemented in house and the involved costs (work, knowledge, equipment and energy).
This will start with a list of services normally consumed by a typical customer (streaming, cloud storage, social networking, smart home, etc.) He will present an equivalent which may be run in-house, discuss its opportunities and limits as well as involved costs and obtained knowledge.
SEMINARS 14.30 – 15.30
SEMINAR A
Post-truth is nothing new – a historical perspective
David Vaughan, Journalist

We think of "post-truth" as a product of social media combined with the toxic political culture of our time, but if we look into history, we can find very similar pattens. In the run-up to World War II, Nazi Germany used what was then the very new medium of radio along with other more traditional media to create a set of alternative realities that fed hatred among some and confusion among others. David Vaughan looks at some of these historical parallels, and asks what we can learn from them.  
Seminar B
Critical media literacy of children and youth in a post-truth society
Zdeněk Sloboda, Prague City University & Palacký University, Olomouc
Attendants will create a concept for a video for children or youth that will develop their media literacy and will address the topic of post-truth, misinformation and media construction of reality. At the beginning of the workshop the concepts of media literacy and misinformation and post-truth will be introduced and discussed.
Film Screenings
All day film screenings relating to IT, Media and PCU's annual theme.
The Social Dilemma Emmy award winning documentary 
The Great Hack Netflix documentary
Network 1976 classic film 
Fake Media literacy independent documentary
Mini Art Exhibitions
BA (Hons) Graphic Design Poster Exhibition
Come and view a mini-exhibition featuring posters made by 2nd year Graphic Design students representing PCU's annual theme. Students have created the visuals using AI image generators. The posters will be placed in the PCU lobby, to the left of the reception desk.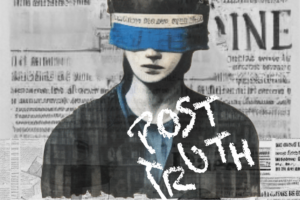 Foundation Art, Design & Media Practice Poster Exhibition
The second mini-exhibition is by Foundation students who have been mastering Adobe Photoshop. To demonstrate their newly found skills, students were asked to pick a song that they felt embodied the message of the annual theme and then create a poster illustrating the connection. The posters can be found in the hallway behind student lounge.